Airbus is moving into 3D printing for manufacturing its aircraft in a major way. That's right — not just prototyping parts, but making final, end-product components.
The French aircraft maker says it is already using 3D printed parts in several planes, including the next generation of its composite-rich A350 XWB and in-service jets in its A300/A310 family. The reasons it cites for using 3D printing are the ones we've come to expect from this industry: less material used during manufacturing, faster production, a smaller environmental footprint, and, of course, lighter parts.
Click the image below to start a slideshow on the company's 3D printing efforts.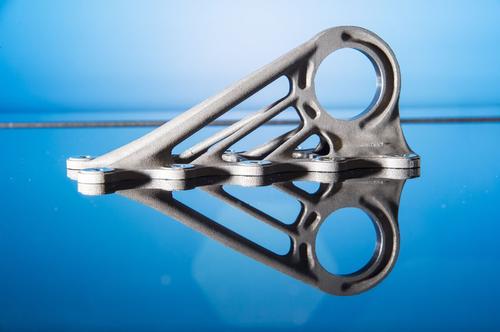 Peter Sander, an Airbus spokesman, said in a press release that the process can make parts 30-55% lighter, depending on design and materials. But the big number is the reduction in raw materials used: up to 90%. Sander also said energy use can drop up to 90% over traditional manufacturing methods.
Several 3D printed metal and plastic brackets are already being used in the next generation of the A350 XWB aircraft, after their material and structural properties were tested and validated. For the A300/A310 family, Airbus can 3D print spare parts on demand. If parts are based on previous designs, lead times can be as short as one day. Redesigned parts take up to two weeks. The first of those parts to fly on a customer jetliner is a small plastic seat panel used by crew members on an Air Transat-operated A310.
Airbus has also conducted a sustainability study with the 3D printer maker EOS. In February, Airbus Group Innovations (a UK operation formerly known as EADS Innovation Works) released the results of the study, an environmental lifecycle comparison of EOS's direct metal laser sintering (DMLS) process with rapid investment casting.
The study looked at two processes (steel casting and laser sintering from titanium) for making a highly standardized metal Airbus A320 nacelle bracket design. Over the lifecycle of the DMLS-produced part, carbon dioxide production was reduced almost 40% by optimizing the design's geometry to reduce part weight. Raw material consumption was reduced 25% by eliminating waste from secondary machining, compared to rapid investment casting.
The biggest impact on LCA from energy consumed and carbon dioxide produced came in the use phase, the study found. Reducing the part's weight could reduce the plane's weight by 10 kg — a significant amount considered in buy-to-fly ratios. During manufacturing, energy consumed using casting is increased by the energy required to operate a furnace for burning an epoxy model 3D printed via stereolithography (SLA).
The tests were adapted from Airbus's streamlined lifecycle assessment (SLCA) and ISO 14040 series requirement data. They included lifecycle data from the supplier of the powder metal raw material, EOS (the equipment manufacturer), and Airbus Group Innovations (the end user). Airbus said the testing will form the basis of cradle-to-cradle studies for other aerospace parts, processes, and end-of-life strategies.
Related posts: