Economic recovery is driving higher freight volumes worldwide. But air cargo hasn't been invited to the party.
In a development that few industry observers foresaw, air cargo has been steadily losing market share to ocean carriers since the turn of the 21st century.
How can this be? Ocean is significantly slower than air, which has been the traditional go-to mode for high-value items such as apparel and consumer electronics. Air shipments get priority treatment, while a seagoing container shares space with thousands of others on huge, slow vessels. (Which are getting even slower, as carriers struggle to hold down fuel cost.)
"The average growth in ocean trade far exceeds expansion in air trade," said Gert-Jan Jansen, executive director of Seabury Group. He spoke in Los Angeles at the World Cargo Symposium of the International Air Transport Association. Air-cargo tonnage has risen by 2.6 percent since 2000, he said, versus 7.4 percent in the ocean trade. As a result, air's share of containerized trade weight has slid from 3.1% to 1.7%.
Those numbers might seem small, but if air cargo's market share had remained stable over the past 13 years, it would have been handling 15 million metric tons more than it actually did in 2013.
The shift to ocean is partly the result of a change in the mix of commodities moving in global trade. High-tech and fashion goods have experienced relatively slow growth over the past 13 years. Meanwhile, raw materials and chemicals — traditional candidates for lower-priced sea freight — have been on the rise.
"It's simple math," said Jensen. "There's nothing we can do about it."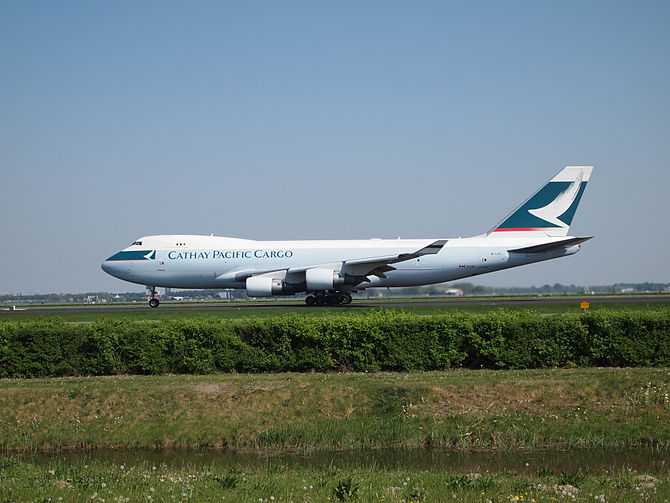 The value of many air-cargo shipments has slid as well. Hard disk drives have seen an 80% drop in air share, due to increasing demand for low-grade integrated circuits. The lower-rated items become candidates for ocean. At the same time, nearly all product groups have been subject to modal migration, affecting fashion goods, machinery parts, capital equipment and auto parts, among others.
The shift to ocean began even before economic recovery got underway. Recent overall increases in world trade served to cloak the widening gap, said Jensen.
For air carriers, the pain is especially acute in the freighter sector. The introduction of larger-capacity passenger planes such as the Boeing 777 has flooded the market with belly capacity, which is readily available to a variety of destinations. James Woodrow, cargo director at Cathay Pacific, called the passenger model of the 777 "a mini-freighter." Over the last five years, Cathay Pacific has cut back on the number of full freighters it needs, from 30 to 20. It has parked five Boeing 747-400s and sold another six back to Boeing. "They cannot compete with the belly and more modern freighters," he said.
Yet another challenge to traditional air-cargo carriers has been the rise of "integrators" such as FedEx and UPS, who in addition to operating their own aircraft act as freight forwarders, dealing directly with shippers. Heavy-freight handlers rely mostly on independent forwarders to book business on their planes. What's more, the integrators have been handling increasingly heavier shipments, cutting further into the airlines' market share.
Air-cargo carriers aren't without blame for their recent loss of business. Industry executives are candid about the need to embrace standardization and ramp up service levels. This year, they're hoping to achieve 22% penetration of electronic air waybills (eAWBs). As of March, however, they had only managed 12%.
Desmond Vertannes, IATA's global head of cargo, attributed the shortfall to airlines' focus on generating revenues in times of slack demand. Many have opted not to invest in improving information-technology platforms. Process standardization in this and other areas remains a huge hurdle for carriers to surmount. "The path to paperless [documentation]," he said, "is evidence of why our challenge remains incredibly tough."
Service, too, has plenty of room for improvement. Vertannes told the IATA conference that air-cargo carriers need to slash up to 48 hours from end-to-end transit times by the end of the decade. Such a move "would make a huge difference to our value proposition, and enable the industry to arrest modal shift, and drive new efficiencies for the business," he said.
Brian Pearce, chief economist with IATA, hopes that a continued upswing in the economy will bring back some demand for air. "It's the only way to get components to market quickly enough," he said.