Yesterday at 9:04 PM
Kinzler was known for fixing everything from a Skylab glitch to Alan Shepard's lunar golf club.
By Bart Barnes
The Washington Post
Jack Kinzler, who died March 4 at 94, was NASA's "Mr. Fix-it."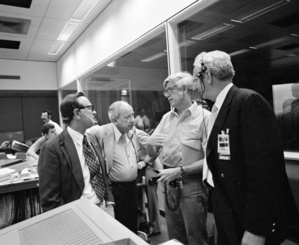 Jack Kinzler, left, seen in June 1973 with other NASA officials in Houston, was known as "Mr. Fix-it" in the agency for his ability to find solutions to unexpected problems. He died March 4 at 94.
Courtesy of NASA
As chief of the all-purpose machine and tool shop at the National Aeronautics and Space Administration's Johnson Space Center in Houston, Kinzler specialized in down-to-earth solutions for beyond-the-stratosphere problems.
In 1973, when a solar panel and shield were torn from the Skylab Space Station, leaving the orbiting Skylab exposed to a dangerous level of solar heat, Kinzler turned to one of mankind's oldest sun shields: the parasol.
He fashioned a heat-resistant 24-by-28-foot makeshift sun umbrella for Skylab and figured out a way to open it outside the spacecraft.
In 1971, when astronaut Alan Shepard Jr. wanted to test his golf swing on the surface of the moon, Kinzler helped design a 6-iron golf club head, then had it attached to a lunar-sampling scoop.
Emerging from his spacecraft, astronaut Shepard hit two golf balls with it. Sports trivia buffs remember that he shanked the first ball but connected solidly with the second. Shepard claimed the balls traveled "miles and miles."
Kinzler and his team figured out ways to display the U.S. flag on the moon. They devised collapsible staffs that made the flags appear to be flapping in the moon's airless environment. It was Kinzler's idea to have lunar astronauts leave plaques on the moon commemorating their landings.
To soften ocean splashdowns at the termination of space shots, Kinzler directed the design and installation of a flexible rubber boot between a space capsule and its re-entry heat shield.
"Whenever we get in trouble," Kinzler once said, "that's when I get really interested."
Jack Albert Kinzler was born in Pittsburgh on Jan. 9, 1920. As a child he loved gadgets. A "constitutional tinkerer" would become one of his self-descriptions.
"I was a member of (an airplane) model-making group . . . during my high school days, and it was very common for the model-plane builders to be interested in aviation," Kinzler told a NASA oral history project.
In 1941, Kinzler began his aeronautical career in Virginia at the Langley Research Center of what was then the National Advisory Committee for Aeronautics, a NASA predecessor. His job was building model airplanes for wind tunnel research.
Kinzler rose over the years to assistant supervisor of the workshop at Langley and, by the early 1960s, transferred to Houston, where he would become chief of the Technical Services Center.
Early on, he acquired a reputation as one of NASA's "whiz kids," according to a space agency profile.
When there was bureaucratic hand-wringing over how to get a new model of the Mercury capsule at Langley fitted to an Atlas rocket at Cape Canaveral, Fla., it was Kinzler to the rescue with a simple solution. He got some rope and tied the Mercury capsule down on a mattress-padded flatbed truck and had it driven from Hampton, Va., to Florida.
But it was his work on the $2.6 billion Skylab spacecraft that earned Kinzler NASA's Distinguished Service Medal and is generally considered to have been the signature achievement of his career.
Without a solar panel and shield – torn from the spacecraft after liftoff – temperatures inside Skylab could have risen higher than 130 degrees Fahrenheit, making the spacecraft uninhabitable. Initially, the plan had been to have a spacewalking astronaut-repairman fix the problem from outside the spacecraft.
Kinzler had the idea to fix it from inside the capsule: have the space crew thrust the unopened protective "parasol" through an eight-inch-square camera port, then spring it open when it got outside. That's what the crew did, and it worked. Temperatures inside the spacecraft were established at 70 degrees.
(Continued on page 2)
Were you interviewed for this story? If so, please fill out our accuracy form
Send question/comment to the editors