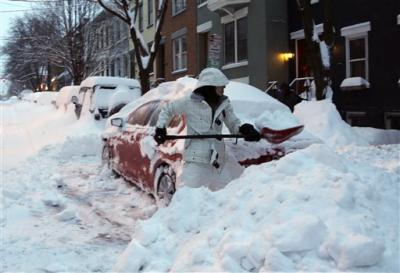 Eastern skies clearing after monster snowstorm
Skies were starting to clear Friday on the East Coast after a punishing storm that grounded a record number of flights and caused two dozen deaths. In New York, a pregnant woman was killed when she was struck by a snowplow, but her baby was saved by a cesarean section. In North Carolina, two good Samaritans were killed when they tried to help a truck driver on a snow-covered interstate. About 1,400 flights were canceled Friday, down from 7,400 Thursday and 14,000 for the week. Since Dec. 1, U.S. airlines have canceled more than 75,000 domestic flights — the highest number since the Department of Transportation starting keeping cancellation records in 1987-88, according to an AP analysis. When the snow finally stopped falling, parts of upstate New York got 27 inches, and 22.5 inches was recorded in Somerset County, Pa. About 1.2 million customers lost power during the storm, with about 465,000 outages remaining Friday, mostly in South Carolina and Georgia.
100,000 flee volcanic eruption in Indonesia
A volcanic eruption in Indonesia blew ash 12 miles into the air Friday, displaced 100,000 people and forced seven airports to close. Three people were reported killed in the eruption of Mount Kelud on Java, Indonesia's most populous island. "The eruption sounded like thousands of bombs exploding," said Ratno Pramono, a 35-year-old farmer, in the village of Sugihwaras. "I thought doomsday was upon us. Women and children were screaming and crying." Ash fell in the populous cities of Surabaya and Yogyakarta, both of which were forced to close their airports because of the danger posed to aircraft engines by ash. In the village of Pandansari, about 4 miles from Mount Kelud, a 60-year-old woman and an 80-year-old man were killed when their roofs collapsed under the weight of volcanic debris, and a 70-year-old man died when a wall collapsed on him.
Peacekeepers in CAR stop Muslims from fleeing
Thousands of desperate Muslims trying to flee murderous mobs in Central African Republic were turned back by peacekeepers Friday as crowds of Christians shouted, "We're going to kill you all." A convoy of packed cars stretching as far as the eye could see in Bangui was stopped and turned around by peacekeepers for fear that it would be attacked in more volatile parts of the capital. The refugees were told to return to a local mosque to take shelter. U.N. Secretary-General Ban Ki-moon warned the Security Council on Friday that the situation was dire. "We must live up to the promises made around this table to act swiftly and robustly in the face of such bloodshed," he said. "We cannot claim to care about mass atrocity crimes and then shrink from what it means to actually prevent them." France announced that it would send 400 more soldiers to help. Tens of thousands of Muslims have fled attacks by Christian militiamen and civilians in the past month after the collapse of a rebel Muslim government. Muslims have been killed by mobs almost every day, their bodies mutilated and dragged through the streets.
'Papa Walton' Ralph Waite dies at 85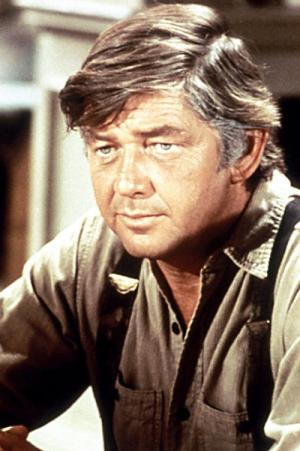 "Good night, Daddy." Ralph Waite, who played the kindly head of a folksy Southern family in "The Waltons," died Thursday at the age of 85. The show, which aired from 1972 to 1981, was famous for its "Good night, John-Boy," "Good night, Jim-Bob" endings, and was remarkably successful as a respectful depiction of Southern life during the Depression and World War II. "I am devastated to announce the loss of my precious 'papa' Walton, Ralph Waite," said Mary McDonough, who played daughter Erin Walton. "I loved him so much; I know he was so special to all of us. He was like a real father to me. Good night, Daddy. I love you." Michael Learned, who played his wife Olivia, said, "He was my spiritual husband. We loved each other for over forty years.
 He died a working actor at the top of his game. He was a loving mentor to many and a role model to an entire generation." Waite's role as a steady TV dad in the CBS drama was in contrast to a personal life battling alcoholism, Waite told The Desert Sun. "I was a caring, responsible father to all of these kids. But I was drinking the night before and being a drunk on the side." However, he said, "I found a way to get sober."
NBC goes back to its bench to anchor Olympics
Does Matt Lauer have pinkeye now? Apparently it takes a village to replace Bob Costas as host of the prime-time Olympics, and now his replacement is sitting one out while "Today" co-host Meredith Vieira takes over Friday in Sochi. She will be the first woman ever to anchor NBC's prime-time Olympics coverage solo. Costas is still recovering from an eye infection, and Vieira actually said Friday that she was starting to worry about her eyes. "It's so funny, I woke up this morning and I was feeling fine, and now my eyes are killing me," she said on "Today." "I watched you guys (Matt Lauer and Al Roker) attempt the luge. I think I'm going blind. And I'm really worried because I have to go prime time tonight." As for Lauer, not to worry, he just needs a break from pulling double duty, morning and night. "I'm dragging a little today, I didn't sleep at all since yesterday morning," he said Friday. "Meredith's fantastic, she'll be great, she really will, and I know she's going to have a blast." But don't expect him to be watching. "Sleep, sleep, sleep, that's my night tonight," Lauer said.
The Wire, a summary of top national and world news stories from the Associated Press and other wire services, moves weekdays. Contact Karl Kahler at 408-920-5023; follow him at twitter.com/karl_kahler.