SAN JOSE, Calif. — Steve Fernholz looked out the window of his Seattle home and got an idea for an Internet of Things startup.
"I was watching the way my mom was watering the trees on my behalf, and I thought, 'That's the way to do it. Just give each plant what it needs,'" he told us. "A couple days later, I had a prototype with parts from a model flying airplane, and now, nine months later, I have a startup."
Thus was born Droplet, a next-generation automated sprinkler that taps into weather and soil data over the web to deliver carefully calibrated amounts of water to each plant in a yard. Fernholz said it can slash water bills as much as 90% — about $253 a year for the average user.
The device, now available on Amazon.com for $299.99, includes a sprinkler head, a timer, and a Raspberry Pi controller board. It uses a Realtek 802.11b/g/n controller to link to the Internet over a home WiFi net like another access point.
"We looked at different IoT protocols, such as low-power Bluetooth and Zigbee, but for the range and ease of use, we chose WiFi," said Fernholz, a former Microsoft employee who worked on Bing, Office, and Windows.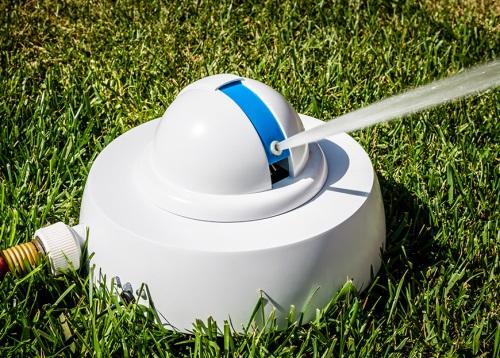 Users can manage the devices via a browser, or they can use iOS and Android apps that will be available when Droplet starts shipping in June. "Our connected services suite is where the device really shines." For example, it can delay watering until it finds out how much of a predicted downpour actually falls.
The five-person company is hiring another four or five developers and has closed a small seed round with investors. The next major goal is to develop a version for farmers, probably sometime next year. "It's a personal goal of mine to effect social change by empowering better farm yields and better water use."
— Rick Merritt, Silicon Valley Bureau Chief, EE Times

Related posts: