Facebook (FB) remains in the news, sometimes because of its acquisitions that surprise the whole tech world and other times for the regulatory breaches or the privacy probes against it. Whatever the reason, it cannot be denied that Facebook is a company that has the guts to create opportunities for its expansion and growth.
Worldwide Internet Access – What It means for FB
Facebook is striving to grow, and this time it has opted for bringing internet expansion to the developing world. According to CNBC, Facebook is going to acquire Titan Aerospace for about $60 million. Titan Aerospace is the manufacturer of solar-powered drones that can stay in the air for about 5 years without the need to land. These drones are said to work as a low orbit satellite that can fly above 65,000 feet and will provide internet access to those countries that currently do not have it, and that accounts for around 2/3 of the world.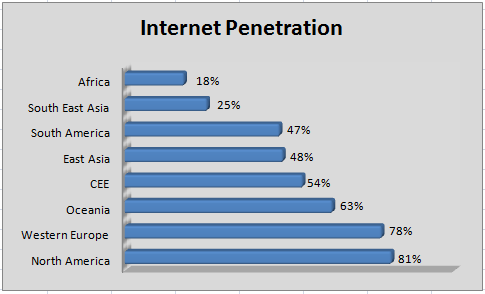 Source: Global Digital Statistics 2014
This deal is claimed to be a part of internet.org initiated by Facebook owner Mark Zuckerberg with the intention of creating internet access across the planet. After the acquisition, Facebook will deliver 11,000 of these lightweight drones that will blanket those parts of the world currently deprived of internet access, starting with Africa. This acquisition will cost Facebook $60 million, and that is just 0.3% of the Whatsapp acquisition cost. Though it seems odd in Facebook's point of view, both acquisitions will lead towards the same goal i.e. global internet access.
Some countries lack basic infrastructure to provide internet access, while in others the population cannot afford the available internet services. This is illustrated in the graph below as lower income class [LIC] and lower middle income class [LMIC] and have the least number of internet users as well as the least gross national income per capita GNI (graph demonstrates average figures pertaining to 2008-2012 period).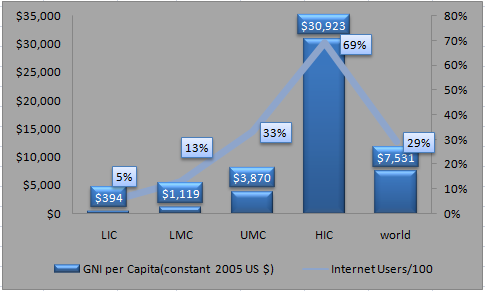 Source: World Bank Database
This leads us to conclude that the countries that really need internet expansion are those falling in the LIC and LMIC categories. Even if third world countries get access to the internet via Facebook's efforts, internet penetration is expected to increase very slightly due to the affordability factor. Currently, we do not know whether Facebook will be charging for providing internet to those regions. So keeping in mind these constraints, I will make a conservative supposition regarding the impact of Facebook's efforts in a 5 year period.
(click to enlarge)

The table above demonstrates Facebook's user base expansion as a result of increased internet penetration and translates the incremental revenues into per share earnings. Using World Bank as the data source, we used the population for LIC and LMIC and determined that they have average growth rates of 2.30% and 1.50%, respectively. I assumed internet penetration would increase by 1.5% per annum in LIC and 2% per annum in LMIC. LIC will see its internet penetration increase from 5% to 12.5% in 5 years, while internet penetration for LMIC will shift from 15% to 25% during the same time period. Out of 2 billion people using the internet, Facebook has managed to gain a user base of 1.1 billion, which means that 54% of internet users are in Facebook's user base.

Applying the same percentage, we determined the total addition to Facebook's user base as a result of internet expansion and enhanced penetration. Facebook generated revenue per user of $7.16 in 2013, and we have inflated this figure with an average inflation (global consumer price) of 4.8% per annum. Incremental revenues will translate into earnings by 19%, and that is FB's current net profit margin assuming no change in the margin over this period. EPS effect becomes visible dividing the earnings by the company's current share count, which is 2.42 billion shares. Facebook's pursuit of internet expansion will bolster its user base as well as its top and bottom lines, as indicated by the increase in EPS year over year.
Stumbling Blocks
Another key assumption that I have made in my calculations is the static net profit margin over the projected time period. In other words, the operating costs of this set up will remain at 81% of the revenues, bringing net profits of 19% to the top line. If incremental costs exceed this percentage or are equal to the incremental revenues, then it will just break even, and we would be unable to see any increase in EPS from this project. Worst case scenario, the incremental cost may outweigh incremental revenues and will leave this setup financially unviable for Facebook.
(click to enlarge)

With regards to the mini-aircraft system that Facebook is going to buy, there are no regulatory restrictions expected. This is because the FAA-Regulator of national aerospace regulates up to 60,000 feet, while these so-called drones will fly above that level. Although different countries will have different regulations, many third world countries do not have any regulations in place to regulate such technology. The only challenge that Facebook will be facing would be in terms of reaching those high altitudes (above 65,000 feet).
Google (GOOG) is also working with its in-house RD on project Loon that will accommodate balloons sailing along the wind at higher altitudes allowing connectivity to rural and remote areas. Incorporating free flying balloons in the project raises some doubts on its practical viability, but Google is still developing this plan, and we cannot know anything for sure until it is finalized. However, Facebook's vision is a little bit more robust, since drones or mini-aircraft used are cheaper and more versatile. Their ability to maneuver within the band to allow for varying degrees of communication is a plus point that makes it a better model than Google's balloons.
Facebook: A Mobile Company
As the world shifts from desktop computers to handheld devices, Facebook has become a mobile company by acquiring the messaging app, WhatsApp. Currently 618 million daily Facebook users access it on their mobile devices out of 1.1 billion daily Facebook users, according to its latest earning release. Currently some controversy exists regarding the Facebook-WhatsApp deal, as the US Federal Trade Commission is being urged to investigate and block this deal, since privacy issues persist. The outcome of the two privacy groups' efforts and FTC investigations (if started) is yet to come, but the truth remains there; WhatsApp has provided Facebook new horizons to grow, especially in countries where Facebook is facing a ban, like China.
Although Facebook claims it has no intention to use WhatsApp as an advertising channel, there is no doubt that the thriving consumer base of the app can add enormously to Facebook's user base (if WhatsApp users sign up for Facebook). The size of the social network makes it an attractive channel for worldwide brands to advertise their products and services. Advertising, which is the major source of the company's, revenues, seems to have become the major source of its cash flows.
The following graphs show that any post published on a brand page will see low organic reach as indicated by the downward trend. Unless there is a wide following by the Facebook community, it cannot earn the right to be shown organically, and it will be a matter of time before this organic reach becomes zero.
(click to enlarge)

Source: social@Ogilvy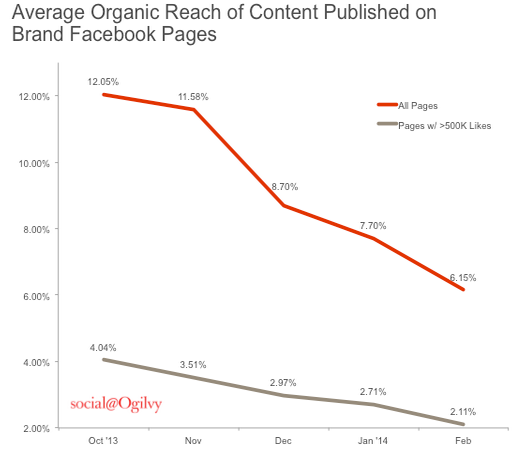 Source: social@Ogilvy
This trend indicates that Facebook is heading towards becoming a paid channel for companies that are using it for advertising purposes. Brands will need to pay to get passage for their posts to be seen on consumers' timeline organically. Facebook will become a part of the queue including online and offline channels that compete for gaining a portion of the marketing budgets of various brands. Given the company's wide user base, a majority of which are youth, brands will pay more and more for the promotion of their posts. This is what makes us believe that sponsored advertising will bolster the company's top line as well as its cash flows.
Bottom Line
Facebook should be admired for its approach to grow its organization to new heights. Although it faces some challenges due to privacy issues, it will certainly get them resolved soon. Facebook's vision of widening internet access where at one end it will bring enormous growth to its user base, and on other end, will transform the world into a de facto global village is admirable. If the plan comes to fruition, and the mini-aircraft work as they are directed to, it will add lots and lots to the company's top and bottom lines. Moreover the company will definitely benefit from the monetization of Instagram and WhatsApp. This scenario makes me believe that the stock still has upward potential, and despite its expensive valuation, I see it well-positioned as a long-term buy.
Disclosure: I have no positions in any stocks mentioned, and no plans to initiate any positions within the next 72 hours. (More…)
Business relationship disclosure: The article has been written by a Blackstone Equity Research research analyst. Blackstone Equity Research is not receiving compensation for it (other than from Seeking Alpha). Blackstone Equity Research has no business relationship with any company whose stock is mentioned in this article.