The search was widened on Tuesday to a larger swathe of the Gulf of Thailand
and the South China Sea, around where the plane lost radio contact and
vanished from radar screens.
But searches were also being conducted on the western coast of Malaysia and up
northwest towards the Andaman Sea – based on a theory that the plane may
have flown on for some time after deviating from its flight path.
Even that information has not been clearly confirmed, and investigators and
intelligence sources say the fate of Malaysia Airlines flight MH370 is still
shrouded in mystery.
04.50 More from Tom Phillips in Shanghai.
According to a reporter from the South China Morning Post, the MH370 plane was
inolved in a minor accident in 2012 at Shanghai's Pudong airport.
The plane used to do the Shanghai – Kuala Lumpur route and in August 2012 it
clipped wings while taxiing at Pudong airport with a plane from China
Eastern Airlines.
Here is a link to the Chinese
language report from Xinhua, China's official news agency.
04.15 While the search continues for the missing plane, questions have
been raised about security due to the revelation that two passengers on
board used stolen passports. Our
lead story in today's paper:
The passport details of more than 20 million people entering and leaving
the UK are not being properly checked, official figures show, amid concerns
that a lack of security at UK airports could aid terrorists.
According to the Home Office's most recent figures, data is still not being
collected and examined for around 10 per cent of the 200 million people
flying in and out of the UK every year.
The figures have added to concerns about Britain's aviation security in the
wake of the mysterious disappearance of Malaysia Airlines flight MH370.
02.40 Malaysian authorities have postponed a press conference they were
due to hold in Kuala Lumpur at 10am this morning, reports Tom Phillips.
Meanwhile, The
Malay Mail has a moving report in the about the lives of the MH370's
flight crew. Ismail Nasaruddin, the head of Malaysia's flight attendants
union, says friends of the missing are clinging on to hope for their safety.
"Every night we have prayed and gathered," he says.
02.20 The question most being asked since Saturday when the plane went
missing is 'how can an airplane simply vanish?'
Experts are confident that it will be found but also not overly surprised that
the search process is taking so long. Since the start of the jet age in
1958, only a handful of jets have gone missing and not been found.


The world is a big place," said Michael Smart, professor of
aerospace engineering at the University of Queensland in Australia. "If
it happens to come down in the middle of the ocean and it's not near a
shipping lane or something, who knows how long it could take them to find?"


I'm absolutely confident that we will find this airplane,"
Capt. John M. Cox, who spent 25 years flying for US Airways and is now CEO
of Safety Operating Systems, said on Monday.
Malaysian Maj. Gen. Datuk Affendi Buang, who is helping oversee the ongoing
search, said the search will take time.


The only thing I could say is it's difficult. There are so many examples of
aircraft lost in the sea – you know it can take days, sometimes months,
sometimes years," he said.
01.00 The Telegraph's Shanghai correspondent Tom Phillips
reports that China's People's Liberation Army has deployed 10 satellites to
help with the search, according
to Chinese state media.
Satellites that were tasked with weather monitoring and communications have
been retasked to join the search for MH370.
00.30 We've just published a story with some more detail on the
identities of the passengers travelling on stolen documents:
The two men travelling on stolen passports on the Malaysia Airlines flight
MH370 that mysteriously disappeared on Saturday have been identified as
Iranian nationals, writes
Arron Merat.
A BBC Persian report quotes an Iranian friend of one of the men, who said
he hosted the pair in Kuala Lumpur after they arrived from Tehran in the
days preceding their flight to Beijing.
22.55 Boeing, the makers of the plane, has joined an official US team
investigating the disappearance of the Malaysia Airlines 777 aircraft.
Boeing said it would act as technical advisor to the US National
Transportation Safety Board team already in Southeast Asia to offer
assistance.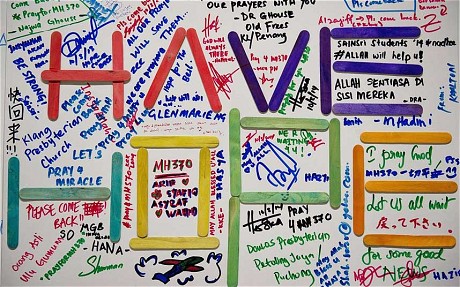 The Malaysia Airlines plane that went missing Saturday on a flight from Kuala
Lumpur to Beijing was a Boeing 777, a model which up to now has seen only
one fatal crash. The popular family of long-range, wide-body, twin-engined
planes have a solid safety record and have been among the world's most
widely flown passenger jets since first entering service in 1995.
In the sole fatal crash involving the planes, a Boeing 777-200 operated by
South Korea's Asiana Airlines skidded off the runway upon landing at San
Francisco's international airport in July 2013, with three dead as a result.
22.00 Malaysian investigators have thumb prints believed to be from the
men using the stolen passports. Those have now been sent to the FBI.
21.15 Commander Mark Williams of the US Navy's 7th fleet has just been
speaking to CNN from the USS Blue Ridge, one of 40 international ships
combing the ocean looking for traces of MH370.
He says that for now the search is confined to the sea and that investigators
are not looking on land in Vietnam, even though the aircraft's flight path
would have briefly taken it over that country.
He also praises the Malaysian government's coordination of the search and
rescue armada.


They're doing a very good job of coordinating the international effort. It's
just a huge area the best we can do is get in our sector and wait for the
next tasking.
21.00 Malaysian authorities have shared pictures and biometric data on
the two men using stolen passports with the US to cross-check against
America's vast terror suspect database. It's not clear where they got the
biometric information from.
20.35 Investigators are starting to lean away from the possibility of
terrorism, according
to Reuters.

Neither the Malaysian agency leading the investigation locally, Special
Branch, nor spy agencies in the United States and Europe have ruled out the
possibility that militants were involved in downing the aircraft, which
suddenly disappeared while flying at 35,000 feet en route from Kuala Lumpur
to Beijing.
However, Malaysian authorities have indicated that the evidence so far does
not strongly back an attack as a cause and that mechanical or piloting
problems could be explanations for the apparent crash, the U.S. sources
said.
One U.S. source said that one of the main reasons Malaysian authorities
were leaning away from the theory that the plane was attacked is because
electronic evidence indicates it may have made a turn back towards Kuala
Lumpur before it disappeared.
20.15 To understand how common fake passports are read my colleague
Malcolm Moore on how it takes two
days and £500 to get a fake passport.

"We are driven by the principle of putting the customer first,"
boasted one agency named Hongyu Passport, based in south China. "All
our printers are imported and cost at least 100,000 yuan (£10,000). Please
do not trust others. There is no such thing as a free lunch, especially in
the grey market."
When contacted, a man at the agency who gave his name as Mr Liu said that
for just over £500 he could provide a passport to enter the European Union.
20.00 BBC Persia is reporting that the two men travelling on fake
passports were Iranian nationals, according to Bahman Kalbasi, the
service's UN correspondent.
Apparently a friend of the family of one man said: "They were looking for a
place to settle". Iranians have been known to travel to Europe in search of
asylum using fake passports.
19.50 Malaysia Airlines has limited its tweets to updates on the search
and somber messages about the families of the passengers.
19.20 Our LA correspondent Nick Allen has a little more on Phil
Wood, the only adult American aboard the flight.
The long time girlfriend of Phil Wood, 50, an American IBM employee from
Texas on Flight MH370, said the disappearance of the plane "defies logic".
Sarah Bajc, 48, who had sent a car to meet him at Beijing airport, told CBS
News: "The online site tracker through Malaysia Airlines said it was
just delayed, that it took off on time but that it hadn't landed. Then I
looked at the online news, and there was the news that the plane was missing."
She said the airline had been able to tell her "nothing".
She added: "I queried them about the various news reports that I'd
seen online, first there was a reported landing, then there was a reported
wreckage, then the oil spill and the passports, and they literally cannot
confirm any of it. I'm personally not willing to give up hope that there's a
chance we'll find survivors, that we'll find the plane. There just has to be
a chance."
19.00 The Malaysia Airlines flight was captained by Zaharie Ahmad Shah,
a Malaysian pilot who joined the airline in 1981 and had an impressive
18,000 hours of flying experience. He's described fondly as a friend,
colleague and aviator in this Wall
Street Journal piece.
Shah was a keen tinkerer and mechanic who flew model aircraft and even built a
cockpit simulator in his own home outside Kuala Lumpur. He also appears to
have enjoyed posting videos of himself fixing things, like this
self-narrated guide to repairing an icemaker.
18.30 The Financial Times has some interesting detail
about the tickets used by the two men travelling on stolen passports.
Apparently, the tickets were bought from the Grand Horizon travel agency in
Thailand and purchased by an Iranian man known to the agency only as "Mr
Ali".
He's apparently a regular middleman for flight bookings and it's not clear
that he even knew the men were travelling illegally. According to Benjaporn
Krutnait, the agency owner, he didn't specify which flights to put the men
on and asked only for the cheapest flights to Europe (they were booked to
fly from Beijing on to Amsterdam). The tickets were paid for in cash by an
associate of Mr Ali's.
The FT was unable to reach Mr Ali on a Tehran mobile number. It doesn't add
much to our understanding of what happened but shows how murky and chaotic
airline travel can be in southeast Asia.
18.14 We're more than 48 hours since MH370 went missing and
there's still no sign of wreckage. But even if authorities do find the
aircraft's remains they could still be a long way from getting answers.
The best information in air crashes come from "black boxes" –
the devices that record cockpit conversations and the aircraft's movements –
and until investigators recover them we may still be in the dark.
Here's a look at some recent crashes and how long it took to recover the two
parts of the black box, the cockpit voice recorder (CVR) and the flight
data recorder (FDR).
Asiana Air 991 – Jul 28, 2011
FDR: never found
CVR: never found
Air France 447 – Jun 1, 2009
FDR: 1 year 11 months
CVR: 1 year 11 months 2 days
Adam Air KI 574 – Jan. 1, 2007
FDR: 7 months 27 days
CVR: 7 months 28 days
Gol Airlines 190 – Sept. 29, 2006
FDR: 3 days
CVR: 26 days
Armavia Air 967 – May 3, 2006
FDR: 20 days
CVR: 19 days
Flash Airlines 504 – Jan. 3, 2004
FDR: 14 days
CVR: 15 days
All of which is a long way of saying that while everyone hopes to find the
black boxes and get answers quickly, it could be a long wait. The figures
come from Hall
Associates, a Washington consulting firm.
17.26 Our Washington correspondent, Raf Sanchez, has been
speaking to aviation experts about similarities with other crashes.
Malaysia Airlines disappearance: how does it compare
to other air tragedies?
Jim Hall, former chair of the National Transportation Safety Board, told him "it
could be years before there are answers" to what happened to MH370.
16.56 So the question remains: how could a Boeing 777 seemingly
disappear without a trace?
The Telegraph's video desk have asked David Gleave, an aviation expert
from Loughborough University.
16.50 Our correspondents in China, Malcolm Moore and Tom
Phillips, have written this round up of the day's developments.
They explain that:
– One of the men travelling on one of two stolen passports has been
identified, and the civil aviation chief described him as looking like
Italian footballer Mario Balotelli.
– Several false alarms were sounded over wreckage. Nothing has yet been found.
– The false passports were bought in the Thai resort town of Pattaya, where a
travel agent sold the tickets to an Iranian known as "Mr Ali."
Missing Malaysia Airlines jet: Man with stolen
passport identified
16.34 The rumours are getting more outlandish.
Chinese news forums say that some of the passengers' mobile phones were still
ringing after the plane lost contact. A representative of Malaysia Airlines
says that he has tried, and it was impossible.
This is the story cited
by the IB Times:
According to China.org.cn reporter Zhang Rui, 19 families signed a joint
statement requesting Malaysian Airlines to disclose the truth to them, and
explain why they could get through to their family members' cell phones but
they could not hear anything and the calls hung up. They submitted the
telephone numbers to the airline, which failed to response their questions
with active measures. In response, angry family members threw water bottles
at the spokesman, and vowed to protest in front of the Malaysian Embassy to
China if Malaysia Airlines didn't disclose the truth of the incident.
When asked about why the phone of a passenger on board was reachable but
then hung up, Ong Ming Choy, representative of Malaysia Airlines, replied
that he dialed that number several times but no one answered. Relevant
departments have been informed of the matter and an investigation is under
way.
16.00 This article by The Aviation Herald is being retweeted on
social media as showing photos
of debris.
But no one has confirmed this, and its source is unclear.
It looks like yet another rumour, for now (see 11.14)
15.37 The Associated Press has produced a handy guide to what we know,
and what we don't know, so far.
Malaysia Airlines disappearance: What we know – and
what we don't
15.00 Our Beijing correspondent, Malcolm Moore, is following
proceedings.

Malaysia Airlines is handing the relatives of the passengers 31,000 yuan
(£3,100) each. It's not compensation, they say. It's presumably just because
everyone is so furious cooped up in that hotel with no answers for three
days.
14.38 Amid all the confusion, a previously-unknown group calling itself
the Chinese Martyr's Brigade reportedly claimed responsibility for the "terrorist
attack".
But no one appears to think that is a genuine claim.
"There is no sound or credible grounds to justify their claims,"
said Datuk Seri Hishammuddin Hussein, acting transport minister.
The statement, which was sent in pdf format, has been dismissed as having
little credibility by the Chinese media.
The Brigade cites the grievances of China's Uigher minority people and the
territorial and religious persecution they have suffered as the motivation
for the attack.
14.33 We've got the full version of the Kuala Lumpur press conference,
outlining the latest developments.
You can watch it here:
14.12 The more time that passes, the more baffling this story becomes.
If it was a terrorist attack, then perhaps there would have been a claim of
responsibility by now.
NBC news has this
analysis:
More than three days after the last contact with Malaysia Airlines Flight
370, no electronic "chatter" has been detected indicating any
known terror group was behind the aircraft's mysterious disappearance.
A senior U.S. official said federal investigators are reviewing
surveillance video from the point of origin of the missing flight —along
with travel patterns associated with two stolen passports fraudulently used
to board the doomed aircraft and any thumbprint records made at security
checkpoints.
A source told NBC News that only "wackos" were taking
responsibility for the disappearance — the individuals who seem to come out
of the woodwork in the wake of global catastrophes.
Al-Qaeda — as well as its affiliates and other groups inspired by its
fundamentalist jihad — traditionally seeks credit after perpetrating
attacks.
14.10 The Telegraph's picture editors have put together this
slideshow of images from the search.
In pictures: The hunt for missing Malaysia Airlines
plane flight MH370
13.38 And still the search continues. Malaysian authorities have
enlisted 34 planes, 40 ships and searchers from 10 countries.
Commander William Marks, public affairs office of the US 7th Fleet, says that
Malaysia is conducting the search "very professionally".
13.15 Azharuddin Abdul Rahman, the head of Malaysia's Civil Aviation
Authority, has described the plane's disappearance as an "unprecedented
mystery".

Unfortunately we have not found anything that appears to be objects from
the aircraft, let alone the aircraft.
As far as we are concerned, we have to find the aircraft. We have to find a
piece of the aircraft if possible.
We are looking at the possibility of a stolen passport syndicate.
12.45 Thailand's Prime Minister Yingluck Shinawatra has just
spoken to Christiane Amanpour for CNN.
Amanpour asked her about the ongoing search for Malaysia Airlines Flight 370
in the Gulf of Thailand, and the two stolen passports reportedly taken from
an Austrian and an Italian in Thailand.
She replied:

Initially we don't know about their nationality yet. But we gave orders for
the police to investigate the passport users.
Because this is very important to Thailand, to give full cooperation to
Interpol in the investigation about the passport users. We are now following
this.
At the same time, our Royal Air Force has been assigned, together with the
Navy, to search for the disappeared airplane in conjunction with the
Malaysian government.
12.31 They say the passengers travelling on the stolen aircraft are "not
of Asian appearance".
12.30 Officials are reiterating the line that the oil slick is not
related to the missing jet.
They are expanding the search area by an 80-mile radius.
12.15 Malaysian authorities giving a press conference now in Kuala
Lumpur.
12.09 A Reuters correspondent is now aboard one of the search planes, a
Vietnam air force AN-26.

The search and rescue mission continues (Rex Features)
They send the following summary:
Ships from six navies, dozens of military aircraft, sweeps with radar
technology that can spot a soccer ball from hundreds of feet in the air –
all have failed to find a single confirmed trace of a Malaysia Airlines
plane that vanished three days ago.
For the sailors and aircrew, it has been a frustrating operation. One
reported sighting of the plane's tail turned out to be a few logs tied
together.
12.03 The question of the stolen passports remains intriguing.
Remember that the person who used the stolen passport has been identified (see
10.33) – but we still don't know why they were using that document.
Simon Rabinovitch, the Financial Times correspondent in Shanghai, has this
nugget of information:
11.50 There's further detail on the lives of the passengers here, in
this New York Times article.
Associated Press puts it thus:
Numbered 1 to 227, the passenger manifest for the missing Malaysia Airlines
jet is an outwardly unremarkable document.
But behind the columns of capitalized names, nationalities and ages are 227
unique stories, part of a rich human tapestry that assembles every time a
flight departs. There were middle-aged Australians with wanderlust, an
acclaimed Chinese calligrapher, a young Indonesian man heading to begin a
new career, and two people traveling on stolen passports.
11.44 Of the 239 people on board the plane, 150 were Chinese. Another
four were Australian – seasoned travellers Robert Lawton, 58, and his wife,
Catherine, 54; and Rodney and Mary Burrows, another 50-something couple who
a neighbour said were beginning the "next step in their life."
Catherine and Robert Lawton
Our Sydney correspondent Jonathan Pearlman reports that Tony Abbott,
Australia's prime minister, says Australians should keep on flying and will
not be cowed by the Malaysia Airlines disaster.

Australians are not a timid people, never have been, never will be, and the
last thing I would want to do is to discourage travel.
Six Australians are amongst the missing, including two couples from the state
of Queensland and a couple of Chinese-Australians from Sydney.
Mr Abbott urged people to stay calm and would not "feed speculation" on
whether the plane was destroyed by terrorists.

An oil slick spotted off the coast of Vietnam while searching for the missing
plane (EPA)
11.36 More details are emerging of the oil slick, which was initially
believed to be related to the missing plane.
Samples taken from an oil slick off Malaysia are not from a missing jet based
on a chemistry lab analysis, an official has told AFP.
"The oil is not used for aircraft," Maritime Enforcement Agency
spokeswoman Faridah Shuib said, adding it was a type used by ships.
The slick, from which the samples were collected, was about 150 miles north
off Malaysia's east coast state of Kelantan and just south of the point
where air traffic controllers lost contact with the plane, which disappeared
en route from Kuala Lumpur to Beijing.
11.19 Our correspondent in Shanghai, Tom Phillips, has been
following the story for us.
He points out that police in Thailand have "removed documentation"
from two travel agencies in Pattaya, "which are believed to be involved
in the purchase of two tickets using stolen passports."
The agencies were named as Grand Horizon Travel Agency and Six Stars Travel.
11.14 At this point, it's perhaps worth a recap of the evidence which
has since been discounted.
– On Sunday night, rescuers off the coast of Vietnam found an object they
thought could be wreckage. It turned out to be unrelated.

What was initially believed to be a piece of debris from the missing Malaysia
Airlines plane (EPA)
– Early Monday morning, a "floating yellow object" was thought to be
a life raft. Instead it was a "moss-covered cap of a cable reel,"
the Civil Aviation Authority of Vietnam said on its website.
– Midday on Monday, an oil slick 120 miles of the Vietnamese coast – first
spotted on Saturday night – was ruled to be nothing to do with the missing
jet.
10.48 AFP: Oil slick off Malaysia not from missing plane: official
10.33 A Malaysian newspaper, The Star, is reporting that one
of the people who used a stolen passport to board the plane has been
identified.
The paper quotes Tan Sri Khalid Abu Bakar, inspector general of police.
The Malaysian police declined to divulge the nationality of the man, but ruled
out a link to a terror attack in Kunming nine days ago.
Those attackers were ethnic Uighurs, from the Xinjiang region of Western
China. The man using the stolen passport, he said, was not from Xinjiang.

I can confirm that he is not a Malaysian, but cannot divulge which country
he is from yet.
The man is not from XinJiang China.
We do not have verification of a Chinese militant group claiming
responsibility for the missing plane.
He added that they have yet to classify the missing plane as linked to
terrorism.
"Let us investigate the matter thoroughly," he said urging the
public not to speculate further on the matter.
10.22 The disappearance of Flight MH370 has raised many questions about
flight security – how four passengers were able to board with fake
passports, and how airlines deal with such disasters.
The Guardian this morning has an interesting comment piece, saying that airlines
need to rethink the use of black boxes.

As search teams continue scanning the waves for signs of debris, these
online truth-seekers should be asking a different question: why couldn't the
plane itself tell us exactly what happened when it went off-radar?
In one of the most galling anachronisms of modern aviation technology, the "black
box" that carries most if not all of the answers seems to have
vanished, too.
10.15 Malcolm Moore, our correspondent in Beijing, has compiled
this morning wrap on events so far.
He says that anger
is boiling over at the lack of information.
In Beijing, the friends and relatives of the missing passengers voiced
their anger after another long day of waiting in a downtown hotel.
A Malaysian Airlines representative was pelted with water bottles and
called a liar at a briefing, while Chinese officials were also greeted with
abuse and shouted questions.
"We have almost 100 people working on the case," said the
representative from the Chinese government. "If you are unhappy, you
should be unhappy at Malaysia Airlines. The government has no problem with
you. The government strongly supports you."
CEO of Malaysia Airlines Ignatius Ong, centre, outside a hotel room
for relatives and friends of the missing passengers (AP)
10.05 So here is a brief recap of what we know so far – and the facts
are essentially unchanged since the plane disappeared off the radars in the early hours of Saturday.
Malaysia Airlines flight MH370 was last heard from at 1.20am local time on
Saturday morning, roughly 40 minutes after taking off from Kuala Lumpur on
route to Beijing.
The skies were clear and the plane has 239 passengers on board.
Of those, 150 were Chinese – but in total 14 countries had citizens on board.
The plane sent no distress signal. And no wreckage has yet been found.
10.00 Welcome to The Telegraph's live coverage of the
disappearance of the Malaysia Airlines flight MH370.