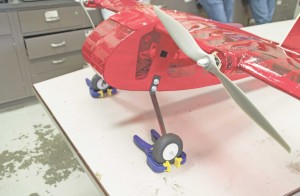 Tuscaloosa weather is warming up and students are turning off their laptops, putting down their books and heading outside to enjoy the spring. For some, this means walking the dog or tossing a football on the Quad. For others, this means taking a model airplane out for a fly.
model airplanes can range from small electric craft that cost $60 to $80 dollars to gas-powered craft that can cost thousands of dollars, and modelers can participate in events ranging from recreational flies to international competitions. In Tuscaloosa, those interested in model aviation can get involved through the engineering department or off campus at the West Alabama Aero Modelers airfield.
One outlet for students interested in model aviation is the Design, Build, Fly team. A crew of senior aerospace majors has nine months to design and build a model aircraft to compete against 65 U.S. teams and 35 international teams in a DBF competition.
"I was one of those people that really enjoyed hands-on projects and being able to apply what I've been able to learn in a classroom," said Will Bowen, co-captain of the DBF team and a senior aerospace engineering major. "I've also flown as a hobby for a while."
(See also "Society recreates culture of medieval world")
Chris Cottingham, a senior majoring in aerospace engineering and co-captain of DBF, said the skills used in building model aircraft translate into full-sized aviation. The principles applied to a wooden airplane in Hardaway Hall are the same that help a commercial plane take off from the Birmingham-Shuttlesworth International Airport.
"If you could see into a 747, you'd see into a structure similar to this," Cottingham said.
After the plane was built in February, Bowen, Cottingham and the team took it to the WAAM airfield in Northport where Frank Baity, a WAAM member and former pilot, tested the craft.
"The guys at WAAM will fly the plane for us and give us feedback," Bowen said. "It's really helpful before we start competition."
WAAM, a charter member of the Academy of Model Aeronautics, "is dedicated to the hobby of remote controlled flying by promoting and enjoying all types of model airplane activity," according to the group's website.
Comprised of former pilots, doctors and lawyers, the chapter welcomes anyone, not just aerospace engineers, to come fly or hang out, Baity said.
WAAM has flown at the AMA airfield, rented from the Tuscaloosa Park and Recreation Authority, since 1976. Members go through an AMA licensing process that provides liability insurance and pay yearly dues of $100, with half-price discounts for students and family discounts. The chapter currently has 55 members but expects membership to grow to 80 members as the weather warms.
"The WAAM facility here is all about wholesome fun, underlined by safety," Baity said. "It is somewhat of a dangerous thing if you don't implement some safety."
(See also "Planes, trains, automobiles: an argument for high-speed rail service")
Baity said that the field, an alcohol-free area, has a family atmosphere, with children and young adults through retirees in attendance. WAAM hosts several events throughout the year, including the upcoming Spring Fun Fly on March 22. Baity and Brock Rester, WAAM vice president, encourage anyone interested in model aviation to come to the field, where several members can be found on any pretty day, they said.
"There are several places to buy planes in Tuscaloosa, and you can also build them, but it's better to first come and talk to somebody," Rester said. "We get them started."
One newcomer at the WAAM field is Dylan Stapp, a junior majoring in aerospace engineering and astrophysics. Stapp began flying seven years ago but picked it up again last year as a way to get away from school and enjoy the weather.
"It's kind of an adrenaline rush in that you could really mess it up, and then your plane and all that you've worked on is gone," Stapp said. "For somebody who likes aeronautics or mechanical tinkering, that's also a big part of it."
Stapp said he finds it hard to make time for flying sometimes, but it's worth it to experience the rush of working on something while also meeting other people.
"When I'm out there, there's no downside," Stapp said. "The main detriment to the whole thing is just weather and not having time to get out there."
Baity said the enjoyment and family atmosphere attract many members and viewers to the airfield and to model aviation as a whole. He encourages people to come to an event to meet people and see the planes.
"I've been flying remote-controlled planes since 1970, and I fly a lot," Baity said. "The camaraderie is definitely the best part about it, and we encourage everyone to get into the hobby."
A list of WAAM events can be found on its website at www.waam.us.
(See also "Rocket Girls aim higher")