PortCityDaily.com is your source for free news and information in the Wilmington area.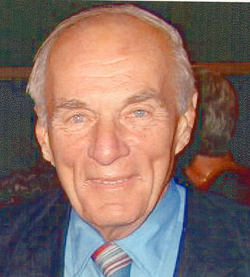 Harry Victor Heath, of Wilmington, died Feb. 13, 2014, at Silver Stream Health Rehabilitation Center. He was 86.
He attended St. Mary's Academy in Glen Falls, N.Y. and entered the U.S. Air Force in November 1945, when he was a radio operator stationed in Germany as part of the Berlin Airlift. He was honorably discharged in September 1948. He married Rosemary Robillard in September 1950 at St. Mary's Catholic Church in Glen Falls, N.Y. While in New York he worked for Finch Pruyn and Co. for 30 years.
Mr. Heath and his wife moved to Wilmington in April 1979 and he retired from the Federal Paper Board in Reigelwood in 1991 after 13 years of service. He enjoyed spending time with his family, boating on Lake George in New York, square dancing and traveling, especially to Hawaii. He delivered Meals on Wheels for several years, was a very skilled and avid bridge player and he enjoyed flying model airplanes.
He had a wonderful sense of humor. Whenever asked how he was, he would always smile and respond, "I'm better than anybody!"
He was born Nov. 11, 1927, in Glens Falls, N.Y., the son of Harry and Helen Heath.
He is survived by his loving wife of 63 years, Rosemary Heath, of Wilmington; daughters, Mary Lou Heath and husband, Bert Plante, of Manteo and Nancy Wohlfahrt and husband, Werner of Queensbury, N.Y.; son, David Heath and wife, Gloria, of Castle Hayne; sister, Helen M. Gurley, of Mays Landing, N.J.; grandchildren, Coral Clark and husband, Greg, C.B. Plante, Kristy Goodson and husband, Brandi, Leslie Balch and husband, Web, Emily Wohlfahrt, Rachel Williamson and husband, Erin, Lt. Cmdr. Christopher Bradshaw and wife, Martha and Patrick Bradshaw and wife, Chelsea; great-grandchildren, Grayson Clark, Zoe Goodson, Maya Rose, Asa and Kai Williamson, Elias, Isaac and Alexander Bradshaw and Zachariah Heath Bradshaw; nieces, Carol Jordan, Sharon Lowell, Elizabeth Gurley, Catherine Gurley and Susan Gurley; and nephew, John Gurley.
A funeral mass will be held at 10 a.m. Monday, Feb. 17, 2014, at St. Therese Catholic Church, Wrightsville Beach.
The family thanks the staff of Silver Stream Rehabilitation Center and Lower Cape Fear Hospice for their caring support.
In lieu of flowers memorial donations may be made to St. Therese Catholic Church or Lower Cape Fear Hospice.
Please leave online condolences for the family at Andrews Mortuary.
To view the most recent listing of Port City Daily obituaries, click here.
Share This Post
Posted by Amanda Thames
on February 14, 2014. Filed under Obituaries.
You can follow any responses to this entry through the RSS 2.0.
You can leave a response or trackback to this entry